Scope of work was very complex, probably one of the most challenging "door-to-door" transports ever performed on a long itinerary combining many different segments, interfacing issues and techniques.
Our job consisted in the complete transport of two steam generators, each weighing 710 tonnes and measuring 22,6 metres long with a diameter of 7,30 metres from the manufacturing plant in Milan, Italy, all the way to the receiving Palo Verde Nuclear Power Plant, located near Phoenix, Arizona.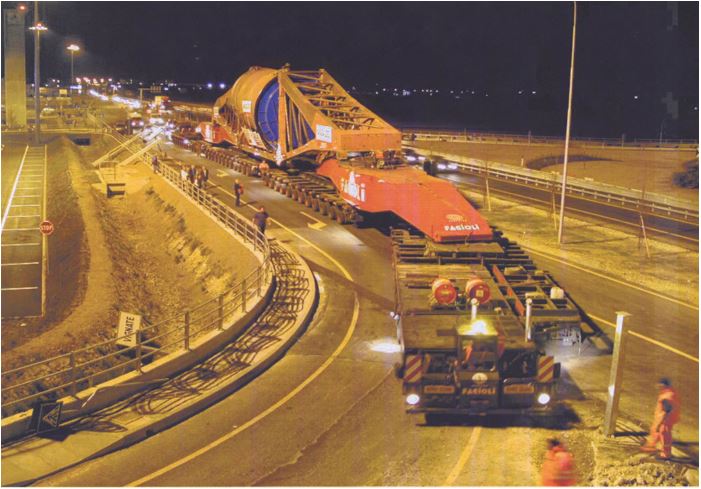 I signed the contract with the client, Arizona Public Service, in 1998. At that time the scheduled execution and delivery date, early 2003, appeared far away, but more than four years were just enough to setup and manage full and complete engineering, planning, preparation and execution of all necessary civil, road, barge and nautical work, the permitting procedures, including a very consistent amount of civil construction and improvement activities on roads and transhipment facilities in Italy, Mexico and Arizona.
Read more http://www.breakbulk.com/Articles/anatomy-of-complex-logistics?mkt_tok=eyJpIjoiTURFd05HVXlNREZtTVdJMSIsInQiOiJGZlhDTmJENjZNSlhwcGYwdFd4VEhTSDl3NjIyaGpwcDBzKzhKNHdRemU1alNyRUNGcjRheEFVNmRlRnR3ZzFyMXVWUWJcLzFTalROTUZQMnZaNW1Fak9VOVVyWERmY0VkVGtOenFlaHRjcE1MTTdVdVwvbndGNEtTXC83ZUU3THllTyJ9