Because of the tight regulations on emissions in the shipping industry, the installation of an exhaust scrubber system has become increasingly widespread. This unfortunately has also led to an increase of corrosion damage on scrubber pipes and outlets which results in water ingress in the engine room, ballast tanks and cargo holds. This can occur as soon as 10 months after installation.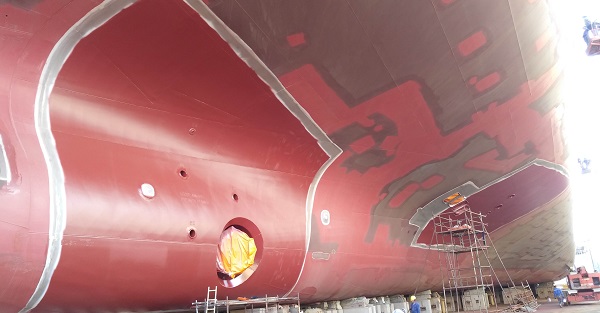 Ecospeed however is highly chemically resistant. Using the coating to protect the exterior outlets as well as the interiors of scrubbers will prevent corrosion damage and the resulting consequences.
There are also several other benefits that make Ecospeed the perfect choice.
The coating system is highly chemically resistant. Taking into account the nature of the process taking place inside the scrubber, this is essential for our customers.
Ecospeed lasts the lifetime of a vessel. No repaints will need to be scheduled during future dockings of the ship. This saves on time and money.
We have been given a B1 classification by DNV GL after testing the coating's suitability as a ballast tank coating. B1 is the superior grade in a six grade classification system.
It is a TBT-free, copper-free and biocide-free solution. Independent research has proven that the coating is 100% toxin-free and that there is no negative effect on the water quality or the marine environment at any point of its application or use.
Ecospeed fits in seamlessly with the environmental idea behind scrubber systems. It is a lasting, chemically resistant coating that will withstand the hazardous pollutants and protect the scrubbers for the lifetime of the vessel.
Contact us to learn more about corrosion protection for scrubbers. Or visit our website for information and case studies on Ecospeed or our other coating systems.
Belgian headquarters
Phone: +32 3 213 5318
Fax:    + 32 3 213 5321
info@subind.net
US Office
Phone: +1 727 443 3900
Fax: +1 727 443 3990
info.us@subind.net